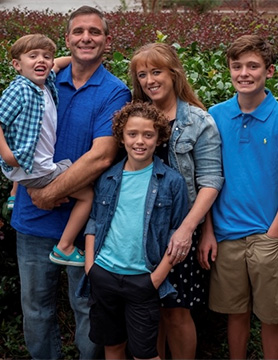 Danielle Poulos
A native New Yorker, Danielle began her dance training on Long Island with weekly trips into Manhattan to Broadway Dance Center. After high school, she relocated to Wilmington and received a BS in Dance Education from East Carolina University, and is state certified to teach dance and theatre in grades K-12. Upon graduating college, Danielle opened her own dance school in Wilmington, where she taught for three years until she was recruited to teach dance and theatre at East Columbus High School. During her time there she directed and choreographed many musicals and coached the dance team, the Gator Girls. While under Danielle's direction, the Gator Girls were ranked number one in the state of North Carolina and were ranked as one of the top three dance teams nationally. In 2005, Danielle left her position at ECHS and devoted all of her attention solely to Dance Express. While Danielle is the owner and director of Dance Express her first joy is still being in the classroom with the students.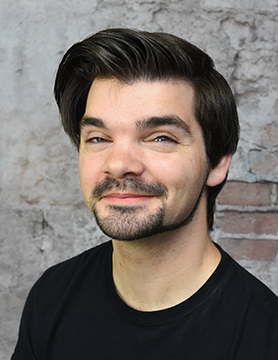 Paul Jarrell
Paul was virtually raised at Dance Express and some of his earliest memories were made here. As a child, he would sit hidden in the curtain and watch every single moment of the Dance Express recital. His talent was quickly spotted the first time he performed on stage and he was immediately chosen for the competition company. He competed in clogging for many years, before adding hip-hop, jazz, modern, ballet, tap, and acrobatics to his repertoire. Paul has led his team to many victories, including several top scores, judge's choice awards, and most entertaining performance. He has competed in the Junior Olympics and considers his one bronze, three silver, and two gold medals his most prized possessions. Paul also appeared on the hit television show Paula Abdul's Live to Dance and was awarded Mr. Personality for his self-choreographed routine during competition season. Paul has also been an instructor and performer in Brunswick County's Dancing With the Stars, in which he and his partner were awarded the Most Entertaining Performance. He also performed in the Carolina Opry's Christmas Show with the clogging group All That!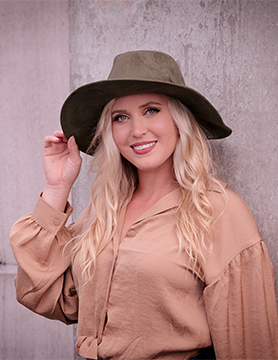 Jackie Brinson
Jackie started her dance training at the age of 2 years old, and has never stopped since! She has performed in various musicals such as "Alice in wonderland" with the leading role of Alice, various roles in the Wilmington Ballet's notorious Christmas play " The Nutcracker," and has performed in various plays with the local Wilmington theatre, Thailian Hall. She also attended the professional ballet and modern training convention from UNCSA all throughout her high school years. Jackie was accepted into UNCSA's intensive Modern summer program. Jackie has also won multiple high achieving awards at various local and National dance competitions throughout her life, as well as competing at the Junior Olympics when she was 11 years old. At the age of 12 Jackie won able First place overall at every dance competition Dance Express attended that season. Jackie now, has put her performing days in the past and is now teaching her students the love for dance. She graduated with her Bachelors in Health and Wellness from Purdue University in 2018, and is now working as an In House Clinical Research Associate to help with developing life saving pharmaceuticals. She also still enjoys teaching her students how to express themselves through multiple forms of dance, and is always excited to help her students learn and grow.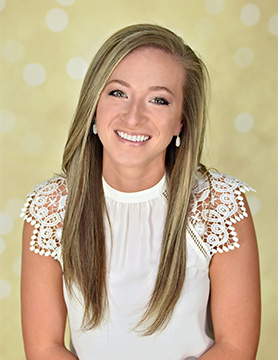 Sara Herring
In December 2010, Sara graduated Suma Cum Laude with a Bachelor of Fine Arts degree in Dance Education and a Minor in Art from East Carolina University. She has been teaching since 2006 with proficiency in ballet, modern, jazz, contemporary, tap, pointe, and hip hop. Sara has been teaching at The ARTS Company in Faison since 2006, and with Dance Express PAC since 2012. Throughout her career, she has studied with teachers and choreographers such as Galina Panova, Timor Bourtesynkov, Autumn Proctor, Tommi Galaska, Clarine Powell, Rodger Belman, Patricia Weeks, Dr. Dawn Clark, Misty Rasconsmith, Ryan Warren, Kathryn McCormick, Chris Donnelly, and others. She has received numerous overall high score and choreography awards at competitions throughout North Carolina, and from 2009 to 2010, Sara was also president of the East Carolina Dance Association at ECU and performed in Dance 2010, ECU's annual dance concert. As a consistent attendee to Dance Revolution Christian dance convention, she believes in using dance as a way to reclaim the arts for God's glory. Sara strives to provide quality dance education and artistic experiences to all children, no matter their background, while aiming to instill a love and respect for the arts in all of her students.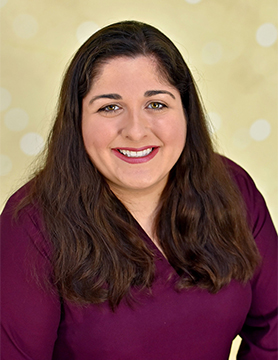 Sabrina Morris
A Cum Laude graduate of UNCW, Sabrina has been dancing for 25 years and competed for 20, earning top awards in group and soloist categories at both the regional and the national level. Being a well-rounded dancer, she was named a Future Star by Dance Spirit Magazine and earned a spot in the off-Broadway tap production of Slide in New York City. Sabrina has taken dozens of classes with dance masters from across the United States and abroad including, Mia Michaels, Mike Minery, Twitch, Fik-Shun, and Mark Goodman. She attained semi-finalist status in Dance Machine Production's America's Miss Dance Pageant three years in a row and was named an All-American dancer of the Universal Dance Association, while being offered a chance to dance in Italy. Sabrina has had the opportunity to dance in Walt Disney World twice and auditioned for America's Got Talent. Her competition groups have placed in numerous overalls and received special awards including Star Systems' Top Teacher for Sabrina's tap choreography. Sabrina loves sharing her passion for dance with ALL she teaches at Dance Express.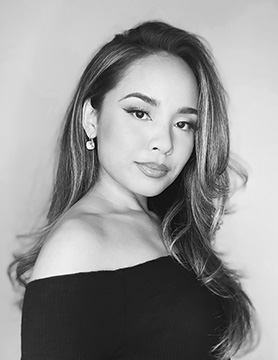 Alexandra Gosiengfiao
Alexandra is from Temecula, CA. She began her training at age 6. She studied with Dana Nelson and Jose Chavez at the Academy of Ballet Arts & Mark Erickson of The Ballet Studio. Alexandra attended multiple summer intensives like Joffrey Ballet School NYC, American Ballet Theatre, Boston Ballet, Washington Ballet, Pittsburgh Ballet Theatre, Ballet San Jose, and State Street Ballet. In 2014, she was selected to dance the 2014 – 2015 as a Trainee with Ballet San Jose under the artistic direction of Jose Manuel Carreño. In 2015, she was offered a Trainee position with State Street Ballet and danced 2 seasons with the company under the artistic direction of Rodney Gustafson & Trainee director Megan Philipp. During the duration of dancing as a Trainee, Alexandra was selected and casted to perform in each Company's classical repertoires and major productions.
In 2017, she joined US International Ballet (USIB), as a Founding Company Member under the artistic direction of Walter Angelini & Ines Albertini. The following season, she was immediately promoted to the title of First Female Soloist, and performed the next 2 years dancing in all of the company's original & classical works. She has been featured in a variety of lead roles, including: Mercedes (Don Quixote/USIB Gala), Dew Drop Fairy (The Great WIlmington Nutcracker), Wicked Witch (The Wizard of Oz), Fairy Godmother (Cinderella), Lead Soloist Cabaret Dancer (Vampires), Queen of Hearts (Alice in Wonderland), and Fairy Soloist & Hippolyta (Midsummer Night's Dream). When March 2020 came around, Alexandra was promoted to the title of Principal Dancer. She was given the opportunity to be cast the principal lead in the ballet classic, Giselle, as Giselle. Rehearsals, preparations, and coaching on this beloved role, came to a halt when the entire world went on a mandatory shutdown. When the mandatory shutdown was lifted, she had the opportunity to rehearse and perform in leading Principal roles such as Sugarplum Fairy (The Great Wilmington Nutcracker), and Ursula (Little Mermaid). Alexandra was recently featured on Wilma Magazine's online website; the article was then selected by the editor the following month to be featured and printed in the September 2021 issue highlighting her journey to becoming a professional ballerina.
Aside from years of ballet training and professional performing experience under her belt, she also has extensive ballet instructor experience. Her experience with teaching ballet ranges from teaching community ballet classes & beginner level to even the most advanced professional company level of teaching.
Alexandra is now a freelance professional ballerina; she has her first upcoming performance as a freelance artist on Saturday November 6th, 5pm-7pm with the New Hanover County's Arboretum for their annual fundraising event of "Art in the Arboretum". She will be choreographing and dancing her original choreography at this incredible event for the community; she will be the opening and closing of this event.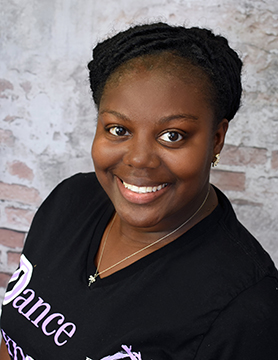 Aricka Sidbury
Aricka is born and raised in Wilmington, NC and began dancing at the age of two. At the age of 5 she began competing in Tap and jazz while taking ballet. She began training at Dance Express in 1999 as a competitive dancer in many genres of dance. Growing up as a competition dancer I was able to achieve numerous top awards with my teammates as well as top soloist awards such as the Gregory Hines award and Fastest feet award.
As a teenager, she was hired by Hoctor Dance Caravan as a Caravan Kid traveling across the country during their summer intensive program, performing and working with professional choreographers and dancers known both internationally and nationwide.
Upon graduating from New Hanover High School she attended East Carolina University and received a BS in Criminal Justice. While at ECU she was still able to take classes from the Theater and Dance Faculty. She performed in several Fall and Spring shows. She was a member of the most popular and very well known hip hop Nubiance Dance Team where she held the titles of Captain and Co- Captain.
Upon graduating ECU she returned to Wilmington, NC and began teaching at Dance Express. I absolutely love teaching to give children a positive outlet to express themselves as well as the structure to evolve in the dance world.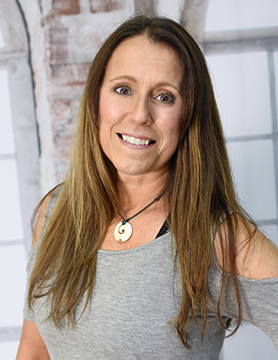 Christina Costagliola
Growing up, Christina was always involved in sports; track, cheerleading, volleyball, and karate to name a few. She was also a lifeguard and activity supervisor throughout high school and college teaching swimming and ice skating to both adults and children. It was only natural that after graduating from nursing school she would find something to fill that void. After taking her first step class in 1995, she was hooked and became a group fitness instructor certified by IFTA and ACE. She has been teaching group fitness since 1996 and is certified in numerous Les Mills programs (Body Pump, Body Step, Body Combat and CXWorx) as well as TRX. She has continuing education credits in numerous areas to include Youth Fitness. Christina is also a second degree black belt and taught karate to both children and adults. She loves teaching and promoting a healthy lifestyle. Teaching conditioning and gymnastics at Dance Express allows her to utilize her passion for fitness to help our dancers have better endurance and become stronger. The earlier we can get people started in fitness, the more likely it will become a part of their life, not just a fad.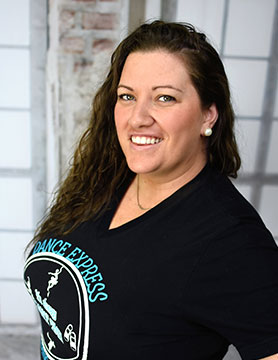 Katie Tomb
Katie was one of the few dancers that have stayed committed to Dance Express since day one. Her first time ever dancing was a clogging class with Cammi Moffit at seven years old, and she has been hooked ever since. She quickly became a company dancer and competed with clogging many years before teaching clogging to the younger generations. She has won numerous top scores and awards through her years of competing, even had the privilege of competing in the Junior Olympics twice. She considers her Junior Olympic medals and experiences some of the most cherished and favorite moments in her life. Katie has a true passion for clogging and has learned from the absolute best teachers in helping her perfect her skills to teach and train cloggers to be the best dancers they can be.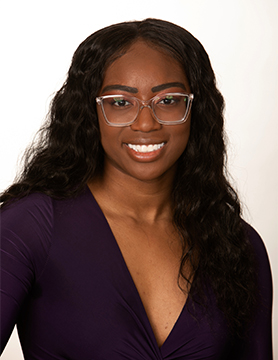 Georgette Sidbury
Georgette Sidbury was born and raised in Wilmington, North Carolina. Fun fact about her is when she was born she had two teeth in her mouth which is very rare. They are called natal teeth 1 in 10,000 Babies have them. Georgette started dancing at the age of 2 years old. Growing up Georgette trained at Dance Express in Jazz, Tap, Clogging, Ballet, Hip-hop and Contemporary. Georgette is also trained in fitness and in Latin dance. Georgette also trained in karate and is a second degree black belt in taekwondo!
After high school, she attended and graduated from The American Musical and Dramatic Academy (AMDA) Conservatory Program in New York City where she studied Dance Theatre. Georgette then went on to earn her Bachelor of Fine Arts (BFA) from AMDA College of the Performing Arts, in Los Angeles.
Georgette is a very versatile dancer, and can show you all the vibes you are looking for.
We are thrilled to have her back at Dance Express!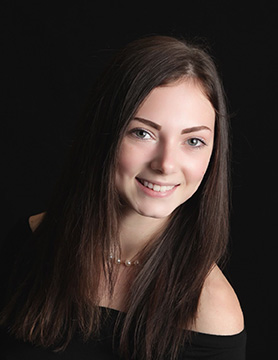 Elizabeth Bohonicky
Elizabeth started dancing at Dance Express at 4 years old and has been dancing ever since. Her love of dance started after her very first dance class. She joined the DEPAC competition team at 6 and was a competitive dancer for 11 years. She helped her groups win numerous overall awards, top scores, judges awards, most entertaining performances and also had the opportunity to perform at Disney World. Elizabeth has extensive training in Ballet, Pointe, Clogging, Tap, Jazz, Contemporary, Hip Hop and Lyrical. She is a 2021 honors graduate at Laney High School and now attends Cape Fear Community College. She has been training to teach with Dance Express for the last 3 years and we are excited to add her to our staff.